Minimum Order Quantity:10 pieces
---
Item Name:
Plasma Cutting Torch Consumables fit PT-80 PT80 IPT-80 IPT80 WS OEMed
List Included:
1 piece x Plasma Cutting Electrode Ref : 52558 WSP-061002
More Details:
Reference Number: 52558
WS SKU: WSP-061002
Consumables type: Electrode
Brand: WeldingStop
Item Package Quantity: 1 piece
These consumables are made by WS, not ORIGINAL parts
Torch model: Fits TECMO PT-80 (iPt-80) Plasma Torches used on LONGEVITY 62i, EVERLAST 60S, PowerPlasma 70S, PowerCut 80s, HTP, AHP AND OTHER PLASMA CUTTERS WITH PT-80/iPT TORCH SYSTEM

NB:
Due to the consumable parts compatible ability are limited, please MUST confirm the Ref code is matched.
Only torch model or power source model matched is not enough.
If you are uncertain about compatibility of parts please contact us first.
We are happy to answer your inquiry ASAP.
The wrong purchase caused incompatible issues are not included in the product defection range.
There is shipping cost and restocking charges might apply for the unconditional returning item.
---
PT-80 / IPT-80 Plasma Cutting Torch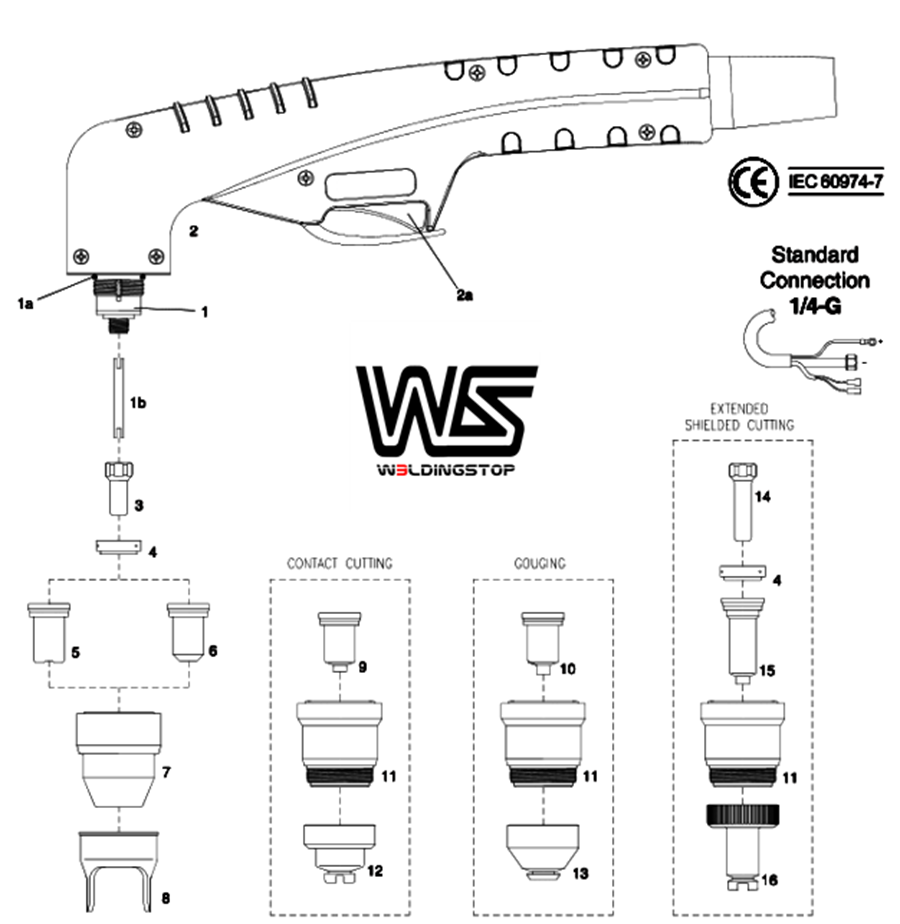 | | | | | | | |
| --- | --- | --- | --- | --- | --- | --- |
| No. | Ref. Code | WS SKU | Item Name | Description | MOQ | |
| 1 | 09800 | | Torch head | PT-80 Hand Torch Head | | |
| 1a | 51620.60 | | O-Ring | | | |
| 1b | 09800.42 | | Cooling Tube | | | |
| 2 | 09705 | | Handle with Switch | | | |
| 2a | 07301.20 | | Switch | | | |
| 3 | 52558 | WSP-061002 | Electrode | Back Striking | 10 | BUY NOW! |
| 4 | 60027 | | Swirl ring | | | |
| 5 | 51310.09 | | Tip | Contact Cutting, ø 0.9, 30-40A, Back Striking | | |
| 6 | 51310.10 | WSP-061003 | Tip | Cutting, ø 1.0, 40-50A, Back Striking | 10 | BUY NOW! |
| | 51310.11 | | Tip | Cutting, ø 1.1, 50-60A, Back Striking | | |
| | 51310.12 | WSP-061004 | Tip | Cutting, ø 1.2, 60-70A, Back Striking | 10 | BUY NOW! |
| | 51310.13 | | Tip | Cutting, ø 1.3, 70-80A, Back Striking | | |
| 7 | 60510 | | Retaining Cap | | | |
| 8 | 60434 | | Double Pointed Spacer | For use with item. 6 only | | |
| 9 | 51311S.10 | | Contact Tip | ø 1.0, 40-50A, Back Striking | | |
| | 51311S.11 | WSP-063001 | Contact Tip | ø 1.1, 50-60A, Back Striking | 10 | BUY NOW! |
| | 51311S.12 | | Contact Tip | ø 1.2, 60-70A, Back Striking | | |
| | 51311S.13 | | Contact Tip | ø 1.3, 70-80A, Back Striking | | |
| 10 | 51311G.16 | | Gouging Tip | 80A, Back Striking | | |
| 11 | 60511 | | Shield Cup Body | | | |
| 12 | 60504 | WSP-063002 | Shield Cap | Hand | 2 | BUY NOW! |
| 13 | 60508 | | Shield Cap | Gouging | | |
| 14 | 52558L | | Extended Electrode | | | |
| 15 | 51311L.10 | | Extended Shielded Tip | ø 1.0, 40-50A, Back Striking | | |
| | 51311L.11 | | Extended Shielded Tip | ø 1.1, 50-60A, Back Striking | | |
| | 51311L.12 | | Extended Shielded Tip | ø 1.2, 60-70A, Back Striking | | |
| | 51311L.13 | | | ø 1.3, 70-80A, Back Striking | | |
| 16 | 60504L | | Extended Shield Cap | Hand | | |